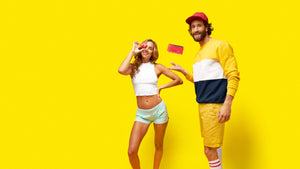 We engineer natural supplements design to make all aspects of your life easy.
Wellness Simplified
Wake up exhausted even before your day begins? Catch yourself staring at the ceiling for hours on end before bed? Is morning regret after drinking the norm? We're here to fix all that.
Eliminate Fatigue
A natural source of energy 10x stronger than energy drinks with 100% less sugar.
FuelEZ
Delete Hangovers
The only vitamin that prevents hangovers before they happen.
OverEZ
Kill Insomnia
A natural sleep supplement that's as strong as prescription sleep meds without any of the nasty side-effects.
Dream EZ
We're waging war on sleepless nights, rough mornings and wasted days.
Does life feel like too much right now? Where you simply don't have the time to feel like crap and need to be functioning at your very best? That's where we come in bringing you pandemic-proof supplements to get you back on track.
Trusted by high performers, everywhere
Tom Greenberg

Founder EZlifestyle

Find out how EZLifestyle was born — Tom shares his journey to creating one of the world's top-selling hangover prevention pills.
Kyle Ardell

Personal Trainer

"Making sure that I wake up feeling good is a must-have for my career, as well as my client's health and wellness"

— Kyle Ardell
Charlene Woods

Entrepreneur

"OverEZ helps me get to my morning class even after a night out drinking with my clients"

— Charlene Woods
Reviews
Read the latest reviews from our customers.
Nick McNaught

Fuel Foods, OverEZ

The Ingredients in Over EZ are all natural and promote a healthy balance within your body.

I'm not typically someone who likes to take Advil, Tylenol or any other type of pill to help with headache prevention, but I've got to say, OverEZ works for me! The fact that it is all herbal based and natural appeals to my love of health. Just as important though, it really works.
Michelle P, FuelEZ

Verified Buyer

Great for those busy days

Hustling is part of my daily routine but it's hard to keep my energy levels up on those busy days. I go to work, exercise during lunch, then head back to the office. I take one of these in the morning and I feel like it sustains me well into my afternoon. It helps me power through workouts and stay focused at work without the jitters. This boost is great!




Jason M, DreamEZ

Verified Buyer

Actually helped me sleep!

I've had sleeping issues for years and have tried many things like valerian root, melatonin and over the counter sleep aids, none of which really helped much. My friend recommended this to me and they helped me fall asleep in 30min which is quicker than I've fallen asleep in weeks! I feel into a deeper sleep and woke up better in the morning. I've been using this for a month now and I cannot recommend it enough!
Alyssa L, FuelEZ

Verified Buyer

A great surprise!

These came with my Fabfitfun box and I didn't know what to expect. I ended up liking them so much I bought more!
Ben Talei, OverEZ

Doctor

You don't have to understand the science behind Over EZ to become a believer

I have a wide base of patients in the entertainment industry, business world and high society in Beverly Hills who are constantly entertaining, socializing and on the go. The positive feedback I've received from friends and patients having a drink at night with Over-EZ yet still trying to be at their full potential the next day has been shocking.
Steve F, FuelEZ

Verified Buyer

Gives me the extra boost I need

I've tried a lot of energy boosters and nootropics, this is one of my favorites. I liked that it gave me a boost of energy that lasted longer than most of them. It's more expensive than some of them but it works well so I'd recommend it.
Mark Birnbaum, OverEZ

EMM Group Inc

I've tried a few hangover products before

None of them really worked so I was pretty skeptical when I heard about Over EZ. I have to admit that I was surprised and impressed with how good I felt the next morning. Over EZ is the real deal.
Carrie P. DreamEZ

Verified Buyer

Better sleep without knocking me out

I've dealt with sleep issues for a long time. It used to take me hours to fall asleep and once I finally did, I would end up waking up at least 2-3 times throughout the night. Ever since I had kids, my sleep issues have gotten even worse. I've been using this for about a month now and it's made all the difference. I fall asleep quickly, but I don't feel like I've been knocked out like when I take Benadryl or other sleep meds. Even when I've had a stressful day that would normally keep me up at night with anxiety, I fall asleep fast and stay asleep.
Charlene Woods, OverEZ

SBE Entertainment

Add customer reviews and testimonials short phrase

This definitely saved my mornings during Art Basel. LA needs Over EZ!
Our promise to a better you
Life-enhancing nutritive products that unify the most effective herbal blends and formulas out there. That's our MO.
Ethically sourced
in Brazil
One of the most biodiverse places in the world, this lifestyle-centric country is the epitome of health and well-being.
All natural nutrient-rich ingredients.
Cultivated and crafted with 100% vegetarian elements for ultimate nutrient absorption.
Transparent foundations
We don't hide behind false claims and promises. Our products have been rigorously tested and are scientifically proven to enhance your life.
Effective Blends
A powerful mix of natural ingredients that work. Each ingredient was chosen only after extensive research and testing.
Love it or it's free with our 30 day money-back guarantee
Wellness Simplified
Contains 3 separate vitamin blends to detoxify, protect and nourish your body.

Made in Brazil, which helps us regularly innovate with new, local ingredients.

100% all-natural vegetarian capsules. Made by health nuts, for health nuts.

Absolutely safe to consume. Nothing but vitamins, minerals and natural ingredients.

Love it all your money back. Guaranteed
Shop Products
As seen in: